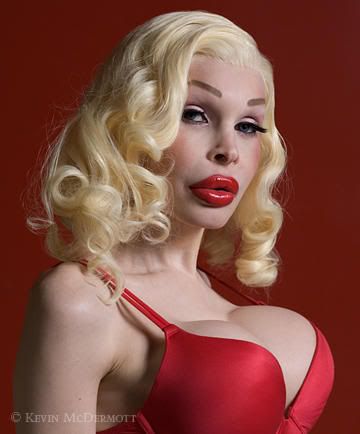 I've seen her naked (I know, who hasn't). In person. Sitting next to me. In a bar.
True story. The night of the big Northeast Blackout – August 14, 2003 – my friends and I were hanging out at our usual spot in the East Village. We had no "emergency plan" but all ended up at Key Bar anyway. For me, it just seemed like the place to go so I walked downtown from work. I figured my friends would turn up there eventually. They all did.
We drank some beers and then went next door to eat. The Peruvian restaurant had to cook up its food before it all spoiled so we sat outside and indulged. As we were finishing up and just chatting, a human-drawn chariot pulled up. Two topless men pulling a modern rickshaw. Out poured photographer David Lachapelle (NSFW) and his muse – Ms. Amanda Lepore (NSFW). She was completely nude.
Amanda posed, and David took photos. The crowd at the Phoenix across the street went wild. They were clearly fans. Then for some strange reason, Amanda opted not to patronize the establishment catering to her base but rather come across the street and drink with us.
She was more than welcome. We were happy to have her. We just kind of wanted her to put on some clothes.
The most memorable line of the night came from a friend who was notoriously exquisite in her naivite. When Amanda first stepped out of the carriage and turned towards us, my friend leaned over and whispered,"Does yours look like that? Is that normal?"
It's not – and neither is having that much firsthand information bouncing around in the back of your brain.
So I've opted to share. TMI? Too bad.